Much to our surprise yesterday, Alice had no desire to walk through the rainforest. After quite a bit of coaxing we got her to come down to the coffee lounge on the beach level. There we had a wonderful view of the Pacific Ocean crashing onto Chesterman Beach. It was a beautiful sunny day with a high of 27C. I had another cappuccino and Corinna ordered a fruit plate. The latter came with a delicious fresh-made yogurt, infused with cherries, strawberries, and blackberries. Alice had a little snack and then we got her out the door and onto the beach. We fully expected she'd head straight for the rainforest. Much to our surprise, she played happily on the sand and even got close to the water. We explored the beach, and Alice was quite taken with a little tidal pond. It had some small barnacles, tiny little snails, and some sand. Alice pretended she was feeding fish – she'd take a handful of sand from the beach and drop it into the pond. Pretty cute. We slowly worked our way onto some rocks. Alice liked that too, though the rocks were pretty slippery and she needed us to hold her hand. On some of the rocks there were more tidal ponds… and more fish feeding. As we got closer to the waves there was more marine life to see. Small hermet crabs, small fish – yes, we 'fed' them sand – lots of sea anemone, and even a big purple starfish. By this point Alice was sufficiently engaged that she was actually walking in the water. Our little girl walking in the Pacific Ocean! After a little more beachcombing, Alice took off across the sand headed straight for the rainforest path. I thought for sure she'd take us through the usual guided tour, but alas, Alice was starting to get homesick. She walked a meters into the forest, stopped, and wouldn't go any further. "I don't want to go to rainforest." I carried Alice back across the beach and into The Wick. We went back to Beachcomber Suite 49 and finished packing for the return trip. Our return trip was uneventful. Alice slept from Tofino to Port Alberni, where we stopped for a bathroom break. We then continued on to Cathedral Grove for a quick 20-minute walk.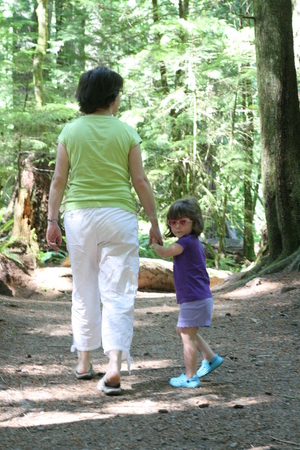 Then it was back into the car and off to Comox. We got to the Comox airport about 65 minutes before our flight. Since it's such a small airport – only two gates – we had plenty of time to check-in and clear security.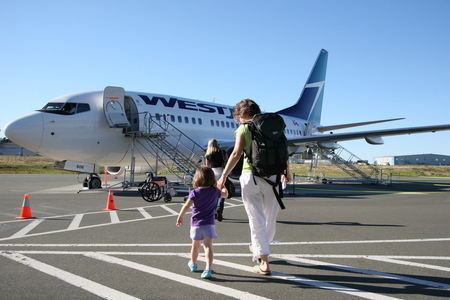 Alice enjoyed the flight. There was a young boy (maybe 4 years old) sitting right behind her and they entertained each other quite a bit. Because she had a window seat, she also played quite a bit with the window blind. Alice also watched a Backyardigans movie – Samurai Pie. We were back home by about 10PM MDT. Corinna gave Alice a really quick bath, and gave her a snack. Alice was asleep by 11 and didn't make a sound until 10AM today.