The Ocean's Talking to Me
The first day of our Tofino vacation was a pretty big one. Alice, Grandma Barb, Corinna and I packed up our luggage – all 10 pieces – and got to the Calgary airport in good time. We had done the WestJet Web Check-in, which helps streamline the process a little. We parked the Element at the Park-n-Jet and caught a bus to the terminal. We had so much luggage we occupied an entire shelf on the bus…. Alice had the largest suitcase, but that's expected when you're a toddler. I had a suitcase, a laptop, my camera bag, and my tripod bag. So I'm clearly the problem. The security people at the airport were surprisingly friendly. Maybe it's because there isn't an Alice Murray on any Canadian no-fly list. A very nice lady asked Alice to put Tiger on the conveyor belt so he could have an X-ray. Alice didn't seem to mind. We all walked through the scanner – Mommy carried Alice. Once they were through, Alice started to become upset. She really wanted Tiger, and he was in a plastic tray, freshly scanned. Another very nice lady took an interest in Alice and Tiger. She even took Alice around the other side of the X-ray machine to see Tiger's picture. It was a surprising departure from the security horror-stories you often hear in the media. We all very impressed. Our flight to Comox was very smooth. Alice enjoyed the flight much more than Grandma Barb – Grandma doesn't like flying, and kept her window closed the whole time. Alice did her best to comfort Grandma, loaning her Tiger, Cocoa, blanket and pillow, snacks. It was pretty cute. I don't think it made Grandma much more comfortable, but it was nice to see Alice thinking of others. The Comox airport is comfortably small. We got to walk down a staircase to the tarmac when we arrived. I think I enjoyed this more than Grandma Barb. All of our luggage arrived in Comox too, which is pretty handy. We rented our Mazda 5 and went to A&W for lunch. I drove from Comox to Tofino; it took about 3 hours. It was partly cloudy but there wasn't any rain. That made the drive much less stressful than it's been on previous trips to Tofino. We usually have lots of rain; those narrow, twisty BC roads are pretty treacherous. It was good to be back at The Wick; we stayed in room 49; we've been in room 47 on our previous two visits. Alice made herself right at home, first trying out the couch.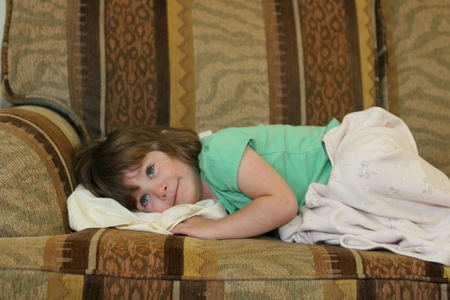 That wasn't quite right, so she tried our bed.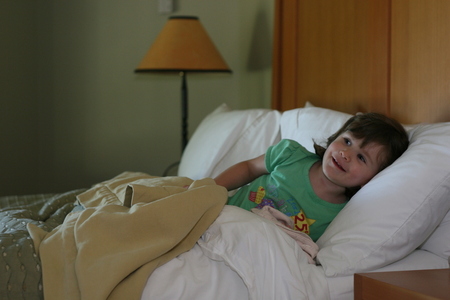 That was nice, but still not quite perfect. Just like our trip to Auntie Wanda's, Alice settled into her suitcase.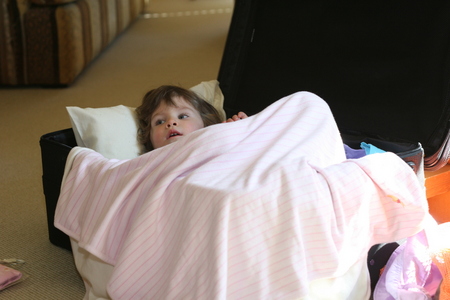 Our room is really nice. There are French doors separating the king bed and bathroom from the couch/TV room. Alice slept on a cot, and Grandma had the hide-a-bed. After supper at The Pointe, we all went down to the ocean. Alice liked it very much, though she didn't get her feet wet.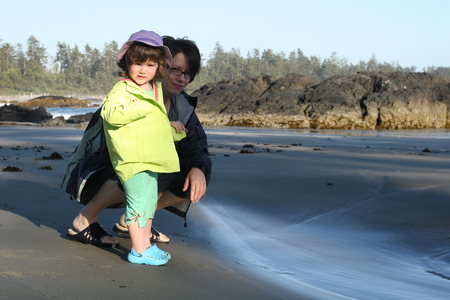 At one point Alice announced, "The ocean's talking to me."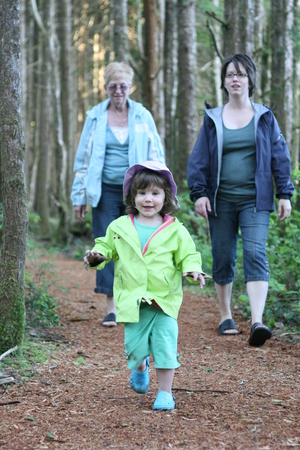 We went from the beach to the rainforest walk on the grounds of The Wick. Alice liked the rainforest quite a bit too. She liked leading the way on the walk, "Come on guys, follow me."